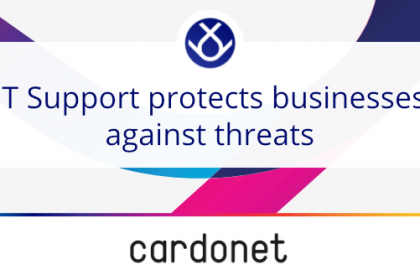 Small and medium-sized enterprises (SMEs) are the backbone of the UK's business community, accounting for 99.9% of the country's six million private-sector employees. The Federation of Small Businesses (FSB) stated that SMEs take 60% of the nation's workforce. Therefore, IT support services are reiterating the importance of security and the protection of these organisations. Having good IT support can help discourage any form of cyber-attack.
A survey involving 500 small businesses in the UK stated that 62% of the respondents experienced increased cyberattacks in the past two years. Twelve per cent said that there was a significant increase in the issue.
The survey revealed that 48% of the respondents stated their employees did not undergo cybersecurity training in the past two years, and 32% said their company lacked a cybersecurity programme. Only half of the people polled said they have a formal response plan against cyber-attacks and other related incidents.
The most significant impediment to cybersecurity efforts was cost, as 38% of companies claim they lacked the financial resources to fight against cyber threats. A third of the respondents cited they lacked skilled IT personnel, which served as a major stumbling block.
Thus, one reason for the increased risk of a cyberattack is that businesses tend not to invest in cybersecurity. As technology advances, businesses are the most vulnerable, and hackers found new methods to hack into company systems.
Surprisingly, cybercriminals have been eager to invest in new tools, whilst many small firms have been wary. Cybersecurity precautions do not always need large sums of money. They can actually be attained with proper training and management.
The National Cyber Security Centre (NCSC) released a guide to help businesses combat the growing threat of cyberattacks. It discusses simple, rapid, and low-cost solutions to increase cybersecurity.
The suggestion is to talk to IT support services about conducting regular data backups. Companies manage critical information, ranging from quotes and payment information to customer orders and details. It would be impossible to operate without them. As a result, the NCSC advises businesses to perform regular data backups.
Backing up business data ensures that the business can continue to operate in the event of physical damage, fire, a flood, or theft. Furthermore, ransomware attacks cannot blackmail stakeholders if they have data backups that can be recovered quickly.
These data include essential files, such as photos, documents, emails, contacts, and the like, commonly stored in folders on the computer or the company phone or tablet.
The NCSC suggests that companies have their backup storage. Businesses could hire IT support to handle this task for them.
Backup storage could take the form of a USB stick, a separate computer, or other storage drives. Access to these devices should be restricted to authorised staff only. Companies can also utilise cloud storage.
According to the NCSC, IT support services in London can provide data storage and web services to businesses without investing in costly hardware upfront. Most IT support companies also give limited free storage space to businesses and larger storage capacity at a low cost.
Backup of data is also simplified with automated storage. Businesses can automatically create backup plans with most cloud storage or network solutions. Automated backups save time while ensuring that businesses have the most recent file version.
Furthermore, the NCSC says that companies should regularly check for malware. Installing antivirus software, preventing employees from installing suspicious apps, patching and updating IT equipment, controlling memory cards and USB drives, and using a firewall are great ways to prevent malware from entering your system.
With more data stored on smartphones and tablets, mobile technology has become an essential part of modern business. These devices are now as efficient as the older computers. Since they are frequently used outside of the office and home, they require even greater security than traditional desktop machines.
When using a mobile device, always have the passcode protection on. IT support can track, lock, or wipe lost and stolen devices with the help of free mobile device management software or web-based tools. These tools can quickly configure mobile devices to a standard setup. Applications installed on mobile devices, including the operating system, should be patched regularly by software developers.
Connecting to unknown Wi-Fi hotspots is a bad idea. Instead, use a 3G or 4G mobile network with security features built-in.
Speaking of passcodes, these should also be put in storage areas, especially on files that are critical to the business. Passwords are a free, efficient, and easy way to prevent users from accessing your devices, according to the NCSC.
Phishing scams have become more well-known as one of the cybersecurity challenges businesses face. As cybercriminals become more creative in their tactics, these attacks have become more difficult to detect. Therefore, businesses are encouraged to take precautions to minimise the harm of phishing scams.
For instance, companies can configure staff accounts using the "least privilege" principle, which means limiting the user rights required to do their jobs. Doing so reduces the potential damage if they fall victim to a phishing attack.
Consider how cybercriminals might target your company and ensure your employees are protected. Staff will be better able to spot requests out of the ordinary if they know how to recognise the "normal" working status.
Encourage employees to seek assistance if they suspect they have been a victim of phishing. Finally, stay informed about attackers' tactics and stay one step ahead of them.
Reliable IT Support Service
Cybercrime is a grave matter and should be addressed seriously. When looking for IT support, find a provider with a credible background to ensure you have the utmost security you need.
At Cardonet IT Support London, we specialise in providing all-around IT service. We've got you covered, whether it's system configuration, cyber-security, or making your system run smoothly.
Our team of experts is trained and equipped with the essential skills and technical knowledge to provide you with all you need to get your business up and running.
For more information about our services, do not hesitate to browse our website at www.cardonet.co.uk.